The value chain for Bergkvist Siljan starts already at plantation of new forests as one of many forestry services that we offer forest landowners. During the approximately 100 years from plantation to final felling, Bergkvist Siljan are a part of both activities to care for the forest and extract the value that is created.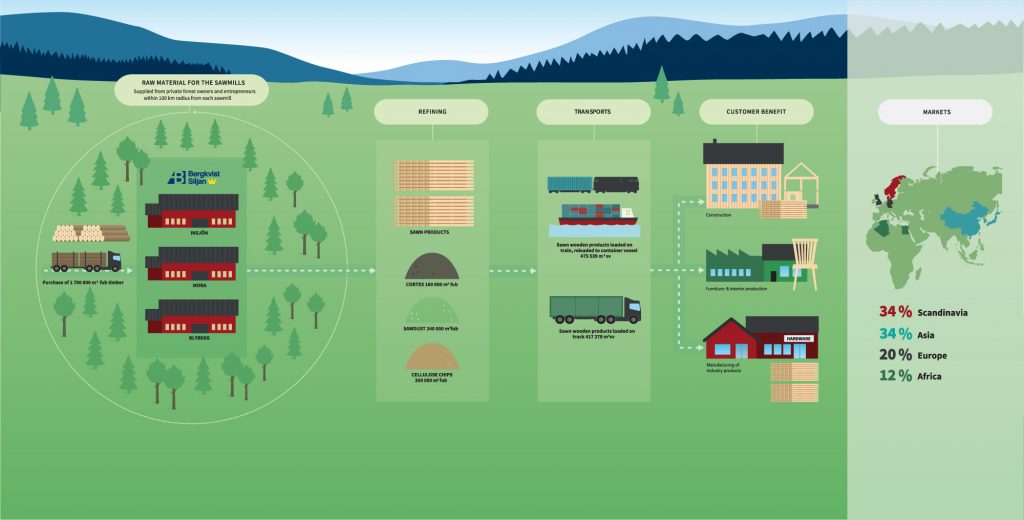 From forest fellings different types of lumber is extracted which is distributed to a specialized sawmill close to each felling. Additional valuable products are created which can be used in pulp industries, powerplants and other industries leveraging the raw material. When lumber, after an efficient logistics chain, have reached the intended sawmill it is sawn to an optimal mix of planks and boards. Each plank and board are dried, sorted and cut to finished high quality products with the optimal length for an optimal value extraction. In this process additional products are created, such as bark, sawdust, cellulose woodchips and heat. Bark is primarily used as a renewable fuel in our own boilers where they are mixed with cellulose woodchips. The heat from our boilers is used to dry wood in our kilns as well as for district heating in Mora and Insjön. Cellulose woodchips and pulpwood from the forest are critical fiber products used in pulp mills in the region in which they are further processed into paper products including packaging material. The planks and boards that we supply to our customers continue to be refined either in the construction industry to different type of buildings, in the furniture industry as well as fine carpentry and to more industrial furniture manufacturers. Finally, we are also delivering to local construction stores that distribute the local craftsmen and home fixers.
As you understand, our value chain stretches over a long period of time with approximately 100 years in the forest and for certain construction material also mora than 100 years as finished products. Along this chain of value creation all products and by-products are optimized to create circular and sustainable system.
To have an even better understanding of our industries, please have a look at the videos of our sites that describe the flow from lumber to delivery: